Multi-axis rotary automaticlock screw machine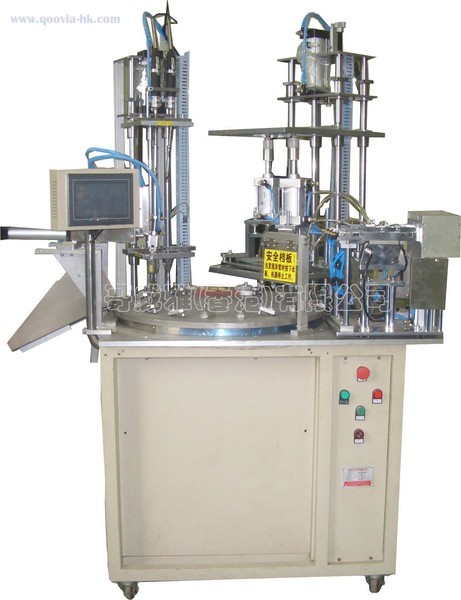 Main features:
1. multiple spindle automatic lock filature is locks the screw position according to the work piece, arranges many lock screwheads, when work piece after fixture fixed good position, multiple spindle simultaneously together locks the screw, no matter has how many axes, hits screws cycle with to lock a screw is the same.

2. does not need the complex server. Belongs to theefficiency to be high, performance to price ratio high system. But becausearranges the screw-driver position after the work piece, cannot change easily,belongs to the rigid system, is suitable is unitary in the variety, output bigwork situation.

3. this system is makes the custom make systemaccording to the work piece request guest. Including locks the screw way, forthe material way, approves heads how many, the position, the feeding way maydesign according to the customer specific request.
Performance parameter:
1. locks the counter shaft several 2-12 axes to be possible to elect.
2. leaks locks/floats locks/the slippery tooth examination customer to be possible to choose and match.
3. redundant reliability and the durability, the electricity, the gas system all use the original installation import part.
4. may adjust the main axle position and the height,the adaptation different product fast replacement. Can use by air-clinder or servo control.
5. may coordinate the assembly line to realize thecompletely automatic work.
6. lock pays the speed: 2-5 second /PCS, regards the screw length to decide.
7. torsion adjustment: Each axis may the independent control.
8. Pneumatic source: 5-7kg/cm2.
9. power source: 220V the 50Hz power is 300W.
10. Suits luo the silk: M1 - M6.
11. suits the product: Toy, electro-optic,computer, products and so on revertex.